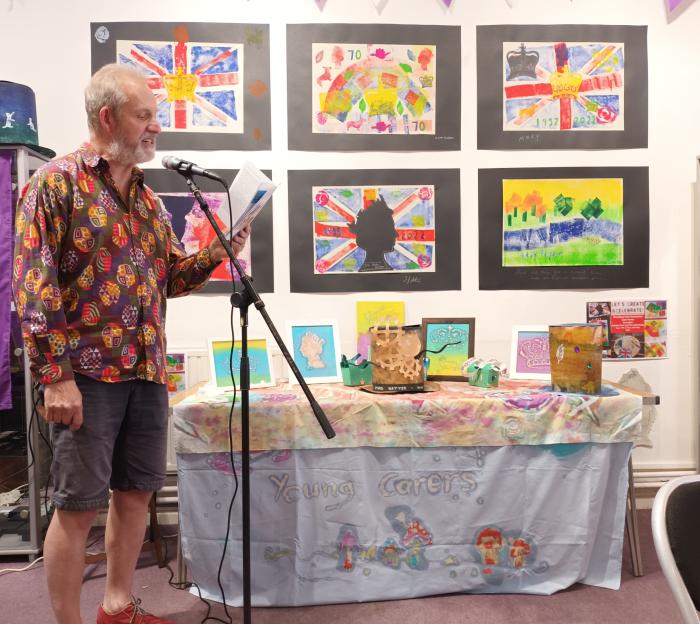 On 2nd June Young Carers and Young Adult Carers from Young Carers Connected (YCC) and Devon Young Carers celebrated the Queen's 70 years of reign and kick-started Carers Week with a Jubilee Street Party for unpaid carers of all ages and their families at The Plough Arts Theatre in Torrington.
Some of our older carers shared their stories and memories with us of times gone by, and these were collected into a booklet and a cd of stories for everyone to take home with them. Children (and their willing parents) had their faces painted and were invited to make their own crowns, before enjoying a traditional jubilee tea, with a fantastic cake in the form of the Union Jack as the centre piece.
Young carers had been busy creating a wonderful array of arts and crafts at 3 Sunday workshops in the run up to our family party, and these were on display, together with a touching theatre performance by young carers in collaboration with the Plough Youth Theatre Group. Lots of audience participation gave us all a good giggle and a dance, before spilling out into the sunshine of Torrington Square for more jubilations!
YCC were, also, represented on a very sunny day on our TTVS stand at the Bideford Fair on 2nd June and our wonderful YCC Ambassadors have been carrying out a "leaflet drop" to GP surgeries, schools, colleges, youth groups, shops etc, getting the word out as far and wide as possible that help is out there for those that need it.
We continued our celebration of Carers during Carers' Week on Wednesday 8th June with an Open Day at the TTVS Hub in Bideford, where staff from all of our projects were on hand to chat to people about what we do and to offer support, information and advice to people who may be struggling with caring responsibilities.
A MASSIVE THANK YOU to everyone at T100 and The Plough who worked so hard to make the Jubilee Party happen for our carers, and to all our YCC Ambassadors, young carers and their families. We appreciate you.
And to all the carers out there, TTVS will continue work hard to make sure you stay visible, valued and supported. We thank you for everything you do.