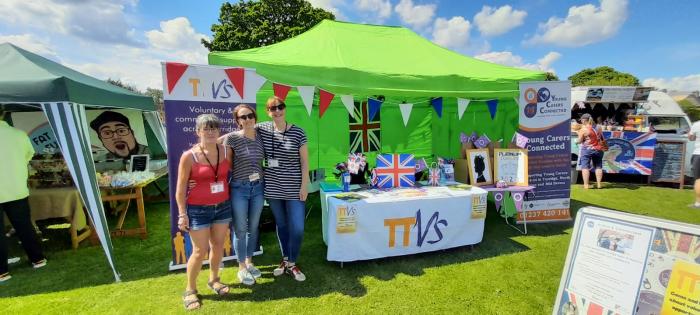 Well, what a whirlwind the last few weeks have been! At TTVS, we have been very excited to celebrate and take part in a number of different events.  Our Volunteer Centre was turned into a sea of red, white and blue for the Jubilee Celebrations and we threw our doors open for a number of different activities... arts and crafts, treasure hunts and the chance to connect over tea and cake.  It was very well attended and the team were on hand with refreshments and any support if it was needed.
Alongside the Jubilee, we took part in Volunteers and Carers Week.  Both very important dates in the calendar as volunteers and carers are at the heart of every community.  And TTVS are here to support both.  We have launched a fantastic competition for Volunteers Week, head over to our Facebook page to find out more, we want to celebrate volunteers for all the hard work they do!
Carers Week is equally as important and we threw our doors open again on 8th June.  Holding an Open Day for carers and cared for.  Our project teams were on hand with more refreshments and a whole heap of advice and support.  We are determined to make carers feel visible, valued and supported.
The last few weeks have really demonstrated the power of community and we will continue to support in any way possible.  Our Volunteer Centre in Bridgeland Street, Bideford is open Mon to Thurs 10am to 2pm, drop by if you can.
The TTVS team were so proud to attend the Bideford Fair on 2nd June.  And what a turnout! Bideford showed the county how it should be done with a wonderful fair and an amazing turnout.  We spoke to a range of people from young carers through to local community groups... and the lovely Mayor!  We love nothing more than being back in the community and will be attending a number of different events over the summer, follow us on Facebook to find out more or have a look below;
Bideford Water Festival - 24th July
North Devon Show - 3rd August
Bideford Music Day - 6th August
At TTVS, we are all about helping communities reach their potential and we are BACK!