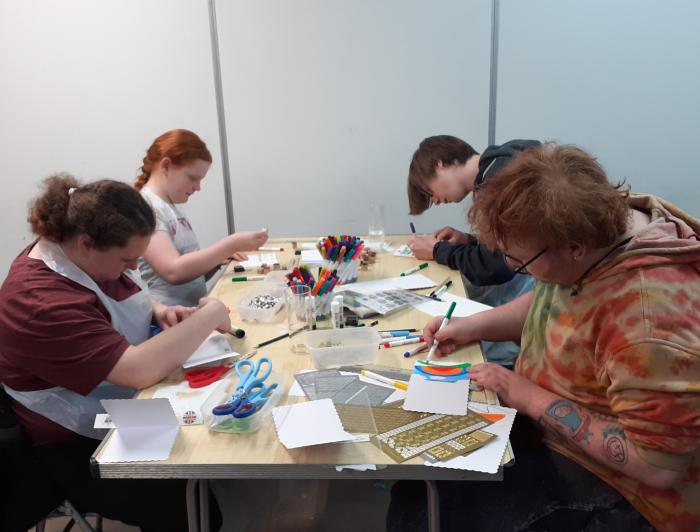 Sunday 1st May saw Young Carers and Young Adult Carers from Young Carers Connected (YCC) head off to Great Torrington to The Plough Arts Centre for the first of our Jubilee Arts and Drama Workshops.
We were joined by young carers from Devon Young Carers and together we learnt how to use Batik (a technique using melted wax that originated from the island of Java in Indonesia) to create tablecloths that can be used at our Carers' Family Jubilee Party.  Very talented young carers from YCC created an amazing design that is almost as wonderfully colourful as they are.
We also designed and created Jubilee party invitations using pens, ink stamps, jewels, gold and silver foils and even edible stickers, that we intend to send out to our carer's families for the celebration day on 2nd June.  A big Thank You to Bridget for guiding us through.
Our Arts Workshop 1 was followed by the Drama Workshop 1, where Richard did some superb exploratory work with our young carers, together with the young people from The Plough Youth Theatre Group.  Young Carers from YCC and the Plough Youth Theatre Group will be performing a piece at the Jubilee Party on Thursday 2nd June.
The next Arts and Drama Workshops are on Sunday, 15th May and Sunday 29th May, culminating in the Family Jubilee Party for Carers on Thursday, 2nd June.