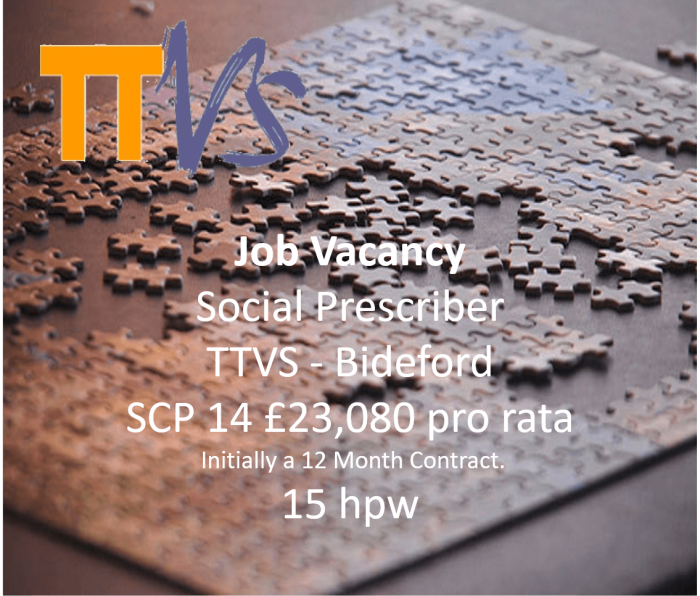 Social Prescriber
TTVS
Bideford
Part-time
15 hours a week SCP 14 £23,080 pro rata (actual £9,357).Initially a 12 Month Contract.
An exciting opportunity has arisen for a Social Prescriber covering a number of surgeries within the Torridge area. Employed by TTVS, the Social Prescriber will play a key role in the primary care network (PCN) multidisciplinary team but will also work in conjunction with the other Community Connectors working within the PCN. Social prescribing empowers people to take control of their health and wellbeing through referral to a 'Community Connector' (sometimes referred to as a Link worker) who give time with a focus on 'What matters to me'. This is achieved by adopting a holistic approach to an individual's health and wellbeing, connecting people to community groups and statutory services for practical and emotional support.
Key Responsibilities of Social Prescriber:
Working alongside GP's taking referrals from a wide range of agencies. Building relationships with practice staff and other social prescribers across Northern Devon – attending North Devon Social Prescribing network meetings
Developing supportive relationships with the local VCSE organisations, community groups and statutory services
Providing personalised support to individuals, their families and carers to take control of their health and wellbeing, live independently and improve their health outcomes. Taking a holistic approach based on the persons priorities and the wider determinants of health
Be proactive in encouraging self-referrals and connecting with all local communities, particularly those that statutory agencies find hard to reach.
Help to develop robust referral processes from GPs and others into the statutory, voluntary and community sector
Meet with people as referred, in one-to-one sessions to explain the options available to them and offer support to access them
Assess individuals' needs for support whether they are just looking for a simpler signposting service or in need of more in-depth support
Offer a connector service for the individual to appropriate community group or service
To develop an understanding of the current VCSE and statutory provision within Torridge PCN area
Co-produce a simple personalised care and support plan, introducing or reconnecting people to community groups and statutory services
Keeping accurate records and data from all referrals and collating these for evaluation
Purposes
The person suited to this post will:
Be approachable and an excellent communicator; both written and verbal
Have the ability to actively listen, empathise with people and provide person-centred support in a non-judgemental way
Be able to get along with people from all backgrounds and communities respecting lifestyles and diversity
Be able to support people in a way that inspires trust and confidence, motivating others to reach their potential
Have a strong awareness and understanding of when it is appropriate or necessary to refer people back to other health professionals/agencies
Be able to develop and maintain effective working relationships
Be proactive, with a 'can do' personality
Have a commitment to collaborative working with all local agencies
Able to maintain a database and produce reports as required, paying attention to detail
A good level of IT skills – use of email, word, excel etc
Have energy and enthusiasm to develop the service
Job Type: Part-time
Salary: SCP 14 £23,080 pro rata (actual £9,357)
Flexible Working Options Available:
Interviews will take place on the 22nd December 2020, via Zoom.
Start date: From 1st February 2021 (or earlier if possible) Please send your CV to jane.creese@torrridgecvs.org.uk