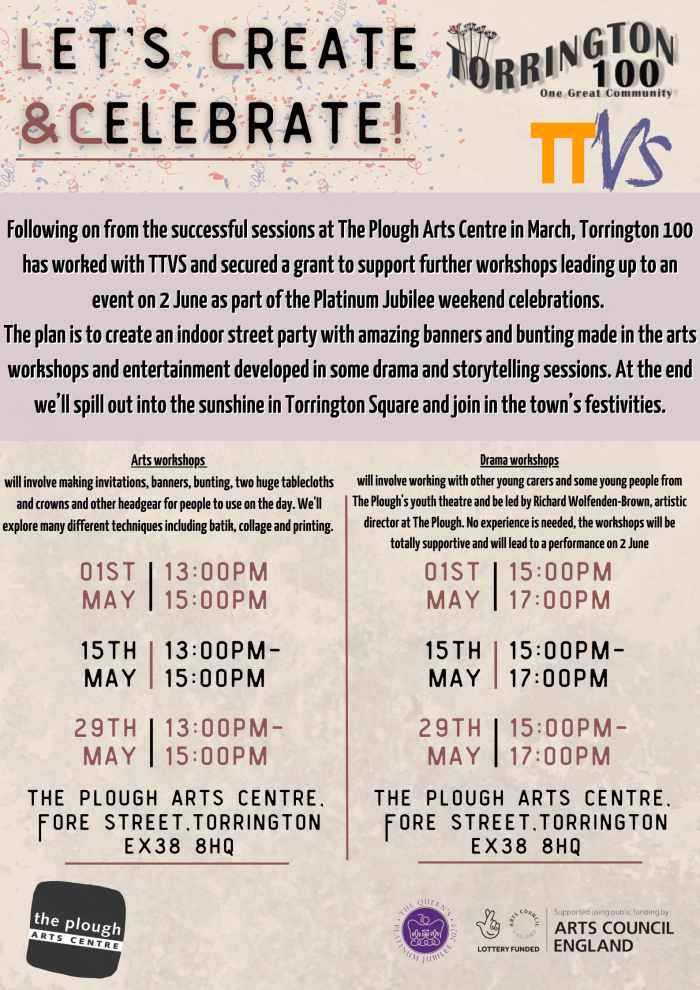 Following on from the successful sessions at The Plough Arts Centre in March, Torrington 100 has worked with TTVS and secured a grant to support further workshops leading up to an event on 2 June as part of the Platinum Jubilee weekend celebrations. The plan is to create an indoor street party with amazing banners and bunting made in the arts workshops and entertainment developed in some drama and storytelling sessions. At the end we'll spill out into the sunshine in Torrington Square and join in the town's festivities.
Workshops will be on Sunday afternoons in May.
Arts workshops from 1pm-3pm, drama from 3-5pm. All free, with refreshments available.
Sunday 1 May, 15 May, 29 May. 
The party will be free for carers, young carers and their families, from 10-1pm at The Plough Arts Centre and will involve much celebratory cake!
The drama workshops will involve working with other young carers and some young people from The Plough's youth theatre and be led by Richard Wolfenden-Brown, artistic director at The Plough. No experience is needed, the workshops will be totally supportive and will lead to a performance on 2 June
The arts workshops will involve making invitations, banners, bunting, two huge tablecloths and crowns and other headgear for people to use on the day. We'll explore many different techniques including batik, collage and printing.